The SYNRGY90 Cable Cable unit offers exercisers a variety of traditional personal training options with two adjustable Cable Motion stations, a chin-up bar, and a center space for accessories and storage.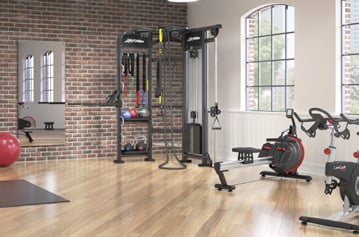 PERSONAL TRAINING CONFIGURATIONS
Trainers can configure their own variation of Cable Motion, bodyweight, suspension, rope or pivot training configuration options.
CABLE MOTION

Cable Motion Technology employs user-defined paths of motion that allow for a nearly endless variety of strength training options.

ACCESSORY STORAGE

Convenient integrated storage space for accessories like medicine balls, kettle bells, resistance bands, and more.

ADDING WORKOUT POSSIBILITIES

U-link columns allow for the quick attachment of options like dip handles and step-up platforms.
Buy Life Fitness Synrgy 90 Cable Machine online. If you are interested in the Life Fitness Synrgy 90 Cable Machine for sale, please enquire above.